Worry-free truck wrap printing and installation!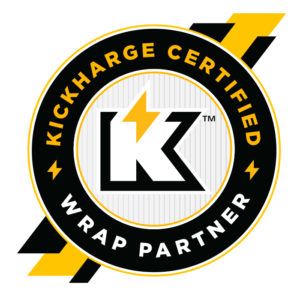 When it comes to vehicle wraps, the design is only as good as the installation. Knowing our clients deserve nothing less than perfection, we partner with CL Visual as our recommended and certified vehicle wrap partner. CL Visual provides white-glove service from start to finish, ensuring all of our designs live up to their full potential. This installer is simply the best of the best.
The importance of highly qualified wrap installation company cannot be understated. With the launch of our KickCharge Certified Wrap Partner Program, we've taken the guesswork, fear and worry about your wrap printing and installing. After years of frustration of having our beautiful new brands and truck wraps not being installed properly, or colors not being printing as we designed, we launched a program to align our wrap design work with the best in the business when it comes to wrap installation and printing.
CL Visual has been selected for this program after working with our clients for several years. They are aligned with our mission of providing the best customer service experience, and a premium experience, from start to finish. We are all in sync with how our art and design files are prepared, how the proofing process works, and making sure brand colors remains consistent. And when it comes time for new vehicles which need to have the artwork adapted, we work hand-in-hand with CL Visual to make sure the fleet branding remains consistent, while giving you a seamless experience.
But it's more than just colors, and expert installations. We wanted to make sure our clients are getting the best possible warranties available, as well as using the leading industry manufacturer certification programs. CL Visual hold the following certifications:
Women's Business Enterprise (WBE) Certifications:
NY State WBE Certified

NYC WBE Small Business Certified

The Port Authority of NY & NJ WBE Certified
Wrap Certifications:
Avery Dennison Vela Certified

Avery Dennison Certified Wrap Installer Certified (Advanced)

3M MCS Warranty

Xpel Certified

SunTek Certified Paint Protection Specialist

Tubelite Color Profiling Certified

Member of The Wrap Institute 

Member of The Wrap Society
No matter where you are located, CL Visual services your area.
CL Visual prints and installs nationally  – so no matter where you are located – they can assist you. In all the years we've worked with CL Visual we have never found the distance to be a problem.
**CL Visual Now Offers Financing**
Contact CL Visual Today at 631-464-4526 or visit their website for more information.