Outdated Info Can Cost You Customers
Last year, as the number of shopping days until Christmas was quickly dwindling, one of the remaining tasks on my holiday to-do list was to purchase a gift certificate to a local restaurant as a gift for my in-laws. My husband and I had enjoyed a delicious meal for our anniversary in November, so I planned to return to that restaurant to pick up the gift certificate. I stopped by during dinnertime on a Sunday and was surprised that it was closed. Before I tried again, I looked up the hours on my iPhone first to confirm it would be open. Contrary to the information I found online, when I returned, the restaurant, again, was closed. I didn't make a third attempt because I had no time to spare. I bought a gift card for another business, instead.
I called the restaurant and left a voicemail describing my experience and encouraging someone to correct the erroneous information I found. The manager returned my call to apologize and ask where I saw the outdated business hours. It was a learning experience for him, but also a missed sale.
Don't let this happen to your business. Especially during the unusual circumstances in which we're living and working today, now more than ever it is crucial to ensure your company's contact and operations information is correct and consistent online. It's fundamental for successful marketing for contractors, retailers and any service provider.
A missing or inaccurate web presence hurts your conversion rate. If someone searching for your product or service cannot contact you to complete the transaction, he or she is a lost lead. Similarly, a frustrated customer is much less likely to become a loyal, lifelong client. Customer retention is important because it's valuable: Revenue from a repeat customer goes directly to your bottom line without incurring any lead generation costs.
Use This Information Update Checklist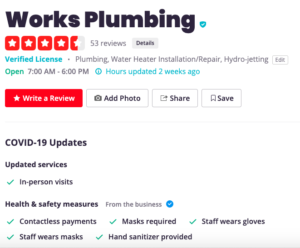 Ensure your profile information on frequently referenced websites reflects your current business hours, services and any operational or process details your customers need to know. For example, if you cannot promise 24/7 availability due to current circumstances, say so. If you have special safety precautions in place due to the COVID-19 pandemic, describe them so people are reassured and know what to expect. If you are suspending a particular service or a product is sold out, make it known to prevent any wasted time or disappointment.
These are some of the most important places to make these changes:
Company Website
Edit the information on your Contact page or add a special note. Consider implementing a temporary, prominent popup or banner to highlight must-see information for all website visitors.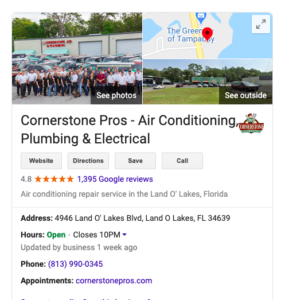 Google My Business
You cannot afford to show outdated information on Google. Your company's Google My Business profile will appear in search results on the world's most popular search engine as well as in Google Maps. Claim your listing and ensure all fields are completed and up-to-date.
Apple Maps
Don't forget about this one! The restaurant in the opening example did not update the business hours shown in Apple Maps, and that's where I was looking. It is the default app for maps and directions on Apple devices. This is the info Apple's voice assistant, Siri, consults, so it's heavily used. Log in to Apple Maps Connect with your Apple ID to edit your company info.
Social Media Profiles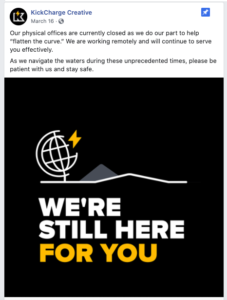 People spend a lot of time on social media, especially on their smartphones. Therefore, a social channel such as Facebook or LinkedIn might be the first place customers go to get answers to their questions about your company. Update all of them—Yelp, too—so you've got your bases covered. On the KickCharge Creative Facebook page, our post about working remotely due to the pandemic is pinned to the top so visitors see it first and don't need to search to learn whether our office is open.
Phone & Email
You also can announce changes to your standard procedures within the recorded telephone greeting that all callers hear or in a note added beneath your email signature.
Help Is Here for You
This might feel like tedious, time-consuming work, but it's important. Use this exercise as an opportunity to ensure you have all of your account logins and access organized. It will be quicker the next time you need to make updates.
The KickCharge Creative digital marketing team can help you manage your online presence. We assist our search engine optimization, paid search and social media campaign clients with updates like these on a regular basis. Our team also can handle branding, vehicle wrap design, website development, email marketing and creating business names and taglines for HVAC companies and any other business types. Contact us today if you have questions we can answer.