KickCharge Creative Shares News From Google Conference
As your digital marketing manager, it's my job to help you generate revenue by putting your brand in front of your target audience when they're searching online for your services. Our team works to ensure you are visible where your potential customers are: online and on their mobile devices. We execute this objective through effective custom WordPress web design by our NJ team, search engine optimization, pay-per-click advertising, digital display advertising and social media management.
Many of these tactics happen on Google properties. The powerful search engine's mission is to "organize the world's information and make it universally accessible and useful." During Google Marketing Live 2019 this month in San Francisco, Google leaders unveiled innovations rolling out this year that will increase the helpfulness of ads and search results. Google wants its end users to have the best experience possible. For small businesses, this consumer-focused approach presents opportunities to make our online advertising work more effectively.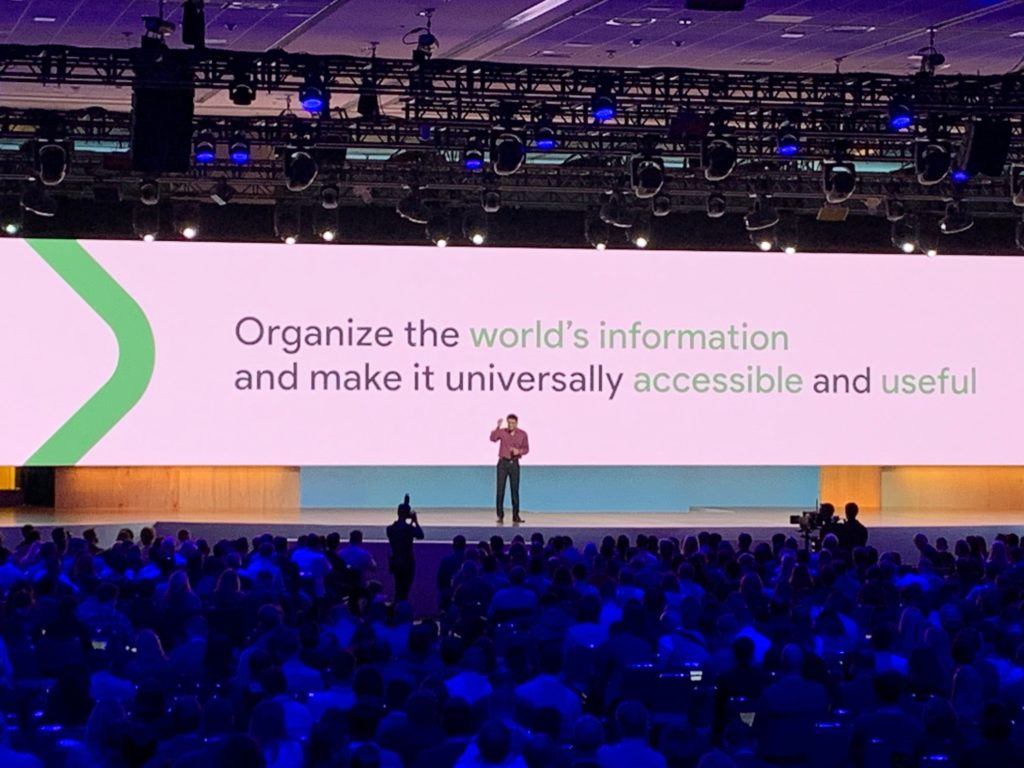 In this blog post I will introduce just some of the new tools and features I learned about at the event, where I was a guest of our partner agency, Google Premier Partner 1SEO IT Support & Digital Marketing.
Showcase Creative in New Ad Formats
Sophisticated behind-the-scenes technology called machine learning allows Google to understand and anticipate a searcher's intent. Google knows we expect immediate information, and when we're using smaller devices with smaller screens, this demands higher-quality results.
Google calls this "reducing friction," said Ben Gomes, senior vice president of search, and it means Google's results are more relevant than ever before. Thanks to its technology, once you've started an online journey, you may not need to do another search to take your next step. Google is already serving up the information. Activity cards link your related queries for long-running tasks—such as vacation planning—so that based on your search activity, your Discover feed surfaces what it expects you need next.
Relevant advertisements are among the content Google delivers to accomplish this objective. Coming later this year are new "discovery ads." It's a form of feed-based advertising that appears when consumers are open to discovering something new. A distinctive quality of these ads is the "open canvas" they allow for ad creative. Yes, images are coming to your Google Ads feed! They also can be placed on YouTube and in the Gmail promotions tab. TechStyle Fashion Group, the company behind brands such as Fabletics and shoedazzle, has been a beta user of the new ads and reports they yield a 25 percent lower cost per lead, plus greater interaction rates.
Google's big takeaway in this keynote presentation was that engaging creative makes ads more effective. The KickCharge Creative team has preached this message for decades: We've always known our clients' brand-centric, professionally designed digital ads, websites, vehicle wraps, print ads, billboards and brochures generate higher return on investment (ROI) than their poorly designed counterparts. It's all about the brand, from choosing smart HVAC company names to creating a logo that portrays your company values.
"Gallery ads" are another new offering Google plans to offer soon. Similar to Facebook's carousel ads, they feature four to eight scrollable images with a headline on top and 70-character captions below each image. They'll appear at the top of a mobile search engine results page. Early tests show up to 25 percent more interactions with these ads than with static ads. Naturally, they are another opportunity for higher-quality writing and imagery to capture more conversions.
Some of the buzz after Google's announcements was that the new advertising options will push organic search results farther down the page, lessening their importance. Similar complaints have been voiced in the past, and organic traffic hasn't lost its luster yet, so the effects remain to be seen.
Maximize Conversions, ROI With New PPC Tools
Google also has developed additional ways to enhance your ROI on pay-per-click (PPC) advertising. New smart bidding strategies are giving us more flexibility on your behalf to optimize toward marketing goals that make sense for your business. We can apply the best strategy at the campaign level instead of using the same strategy for an entire account. For example, if the objective of your air conditioning repairs campaign is to increase sales, we can turn on Google's "max conversions, target CPA" strategy to maximize leads. To increase profit in your air conditioning replacement campaign, we can use the "max conversion value, target ROAS (return on ad spend)" bidding strategy.
We also will be able to customize the conversion action we want to measure at the campaign level, so that one campaign can count store visits, for example, while another campaign in the same account measures sales instead. Google Ads also is enabling seasonality adjustments, so that anticipated conversion rates and bids will adapt during the time period of a special sale or event.
In addition, custom audiences and an audience expansion tool will allow us to target more specific consumers and forecast the cost and other effects when we expand the reach of your ads.
Improve Results With Mobile Speed, Design
Mobile experience is one of Google's top priorities. One mobile innovation unveiled at Google Marketing Live is called the "bumper machine" – a tool in Google Ads that will help businesses create video clips for mobile viewing. Here's how it works: Provide a link to your YouTube video that is 90 seconds or less, and bumper machine will generate a few different 6-second videos, with light editing features available. You could use one of the resulting clips as your ad or just take inspiration from them for how to utilize your existing video assets in mobile advertising. These short videos are proving to be easier for viewers to recall and also more likely to spur people to make a purchase.
User experience is a huge factor in mobile conversion rates. One presentation cited a study that determined the level of stress caused by mobile delays was comparable to watching a horror movie. The anxiety level was higher than stress caused by standing at the edge of a virtual cliff or waiting in line at a retail store! The presenters advocated solving this problem using AMP pages and progressive web apps. Progressive web apps are fast (thanks to caching), installable (users can add a shortcut to their mobile device's home screen), reliable (they can be used offline, too, when users have no Internet connectivity) and engaging (users can receive push notifications).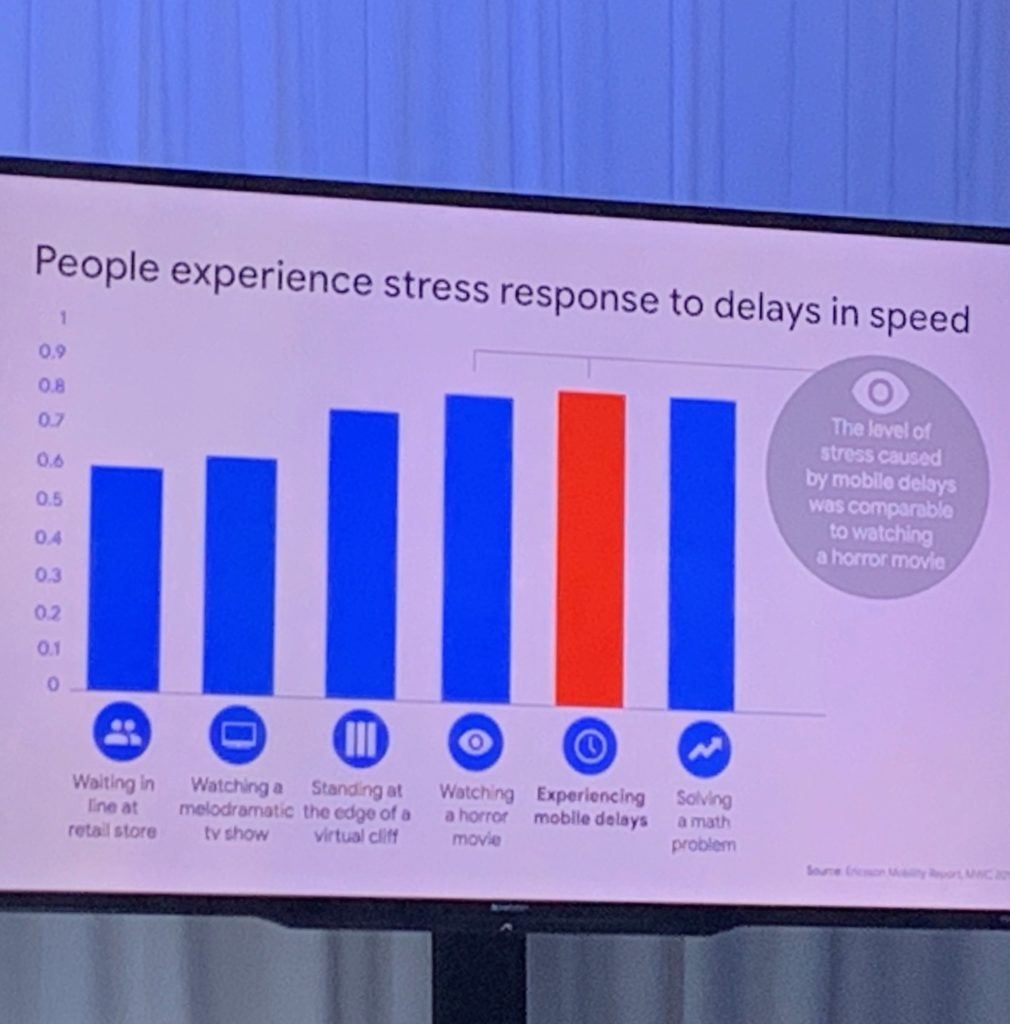 They shared an excellent tip for mobile website design: position conversion points (buttons) in easy-to-reach areas on the phone screen to allow one-handed conversions. Your website visitors should be able to click an action with the thumb of the hand that's holding the phone.
Expand Your Reach in Local Search and Shopping
Google also is expanding advertising opportunities in local search. Soon businesses can place ads in map searches, so that someone searching for a dog park could see an ad for a nearby pet supplies store. Promoted pins are coming to maps, too. This gives businesses an opportunity to advertise to people who are nearby or en route to their neighborhood—particularly when they're looking for or headed to one of their competitors.
In the ecommerce realm, get ready to meet Google.com/Shopping, your shopping home page with personal recommendations where you can filter, see reviews, click through to a retailer's website, get the info you need to visit a store or purchase from the retailer directly through Google. It will feature a simple checkout process and will be backed by a Google guarantee. This is Google's equivalent to Amazon.
Choose the Partner With the Inside Scoop
Google Marketing Live offered many more sessions than I could attend and featured an impressively large Sandbox area I did not have time to fully explore. In my experience, the content was predominantly focused on pay-per-click advertising opportunities and ways to measure Google Ads campaigns, with much less information about developments in organic search or Local Services Ads.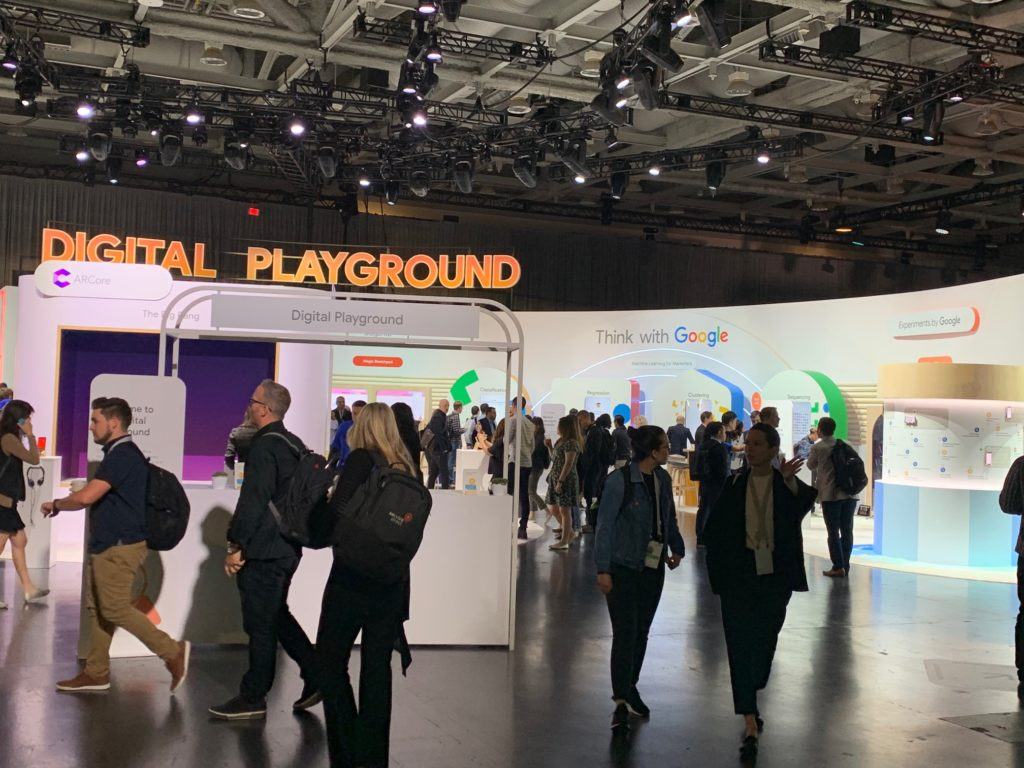 I heard about tools and settings with which I am unfamiliar, so I jotted down their names to explore in the coming weeks. I am grateful for this opportunity to learn about new ways to support my clients—and to know Google is always working to improve my personal search experience.