Purchase "Building a Big Small Business Brand" and save $15 as our way of saying thank you for attending our webinar!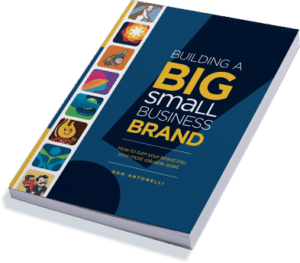 "Building a Big Small Business Brand" by Dan Antonelli
Dan's latest book is a must-have for small business owners and entrepreneurs struggling to develop their professional identity. Your professional logo serves as a solid foundation for your small business branding—conveying expertise, delivering a brand promise and creating an expectation for quality. In today's cluttered marketplace, the importance of your small business branding cannot be underestimated—yet most small businesses put little time and money into developing their company's logo and branding strategy. Drawing from his experience of working with nearly 800 small businesses on their branding, Dan will teach you the keys to an effective small business branding strategy.
"Building a Big Small Business Brand" shares industry secrets for:
Selecting and working with a reputable design team
Creating a logo that stands out
Promoting your brand promise
Building a small business brand that outshines competitors
Rethinking the power of a professional brand and its impact on your bottom line