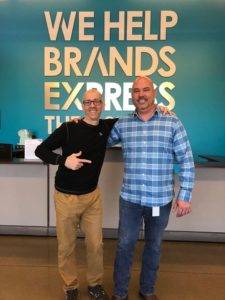 Just in time to avoid a New Jersey snowstorm, KickCharge Creative President Dan Antonelli and V.P., Director of Digital Marketing Alyssa Young in early March embarked on a West Coast Tour. They visited longtime clients and introduced our agency's talents to businesses in need of a KickCharged marketing partner.
The trip began in Phoenix, where Chris Prenovost gave them a tour of the impressive azpro group facility. The shop prints and installs vehicle wraps for many KickCharge clients across the country. Dan and Alyssa next enjoyed dinner with the owners of Larson Air Conditioning in Scottsdale. Over burgers, the Larsons got the first look at design comps for their new custom website.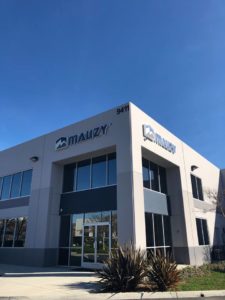 A short flight brought the KickCharge team to San Diego. The next morning, Dan and Alyssa enjoyed some free time to exercise in the warm sunshine—Dan on a bike and Alyssa along the beach. That afternoon, after a quick stop to take in the view at Sunset Cliffs National Park, they met with an HVAC company about its marketing needs and visited with Mauzy Heating, Air & Solar, a fast-growing, dominant player in the San Diego HVAC market that has relied on KickCharge for years for its branding, collateral and more. Dan savored an afternoon In-N-Out Burger snack, of course. The group continued their strategy meeting over dinner at the famous Mister A's rooftop restaurant with a gorgeous downtown skyline view.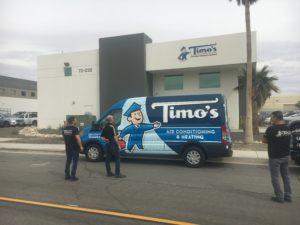 They departed San Diego to spend the next day with their friends at Timo's Air Conditioning & Heating in Palm Springs, another longtime client. Alyssa took more than two dozen photos of the famous windmills as they entered the Coachella Valley. The Timo's and KickCharge team discussed 2018 initiatives and dined together al fresco—but not before squeezing in a meeting with Door Pros to talk about next steps in the company's branding, website development and digital marketing projects.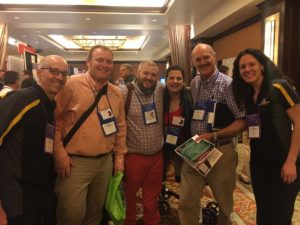 The last full day in sunny California was a busy one. Dan and Alyssa chatted with Josh Tolbert at Awthentik Design Group in Lake Elsinore, made a presentation at Geary Pacific Supply in Anaheim, and then mingled with Nexstar Network members and vendors at the Leadership Spotlight event in Huntington Beach. They saw familiar faces—including the McQuillan Bros team (pictured at left), partner 1SEO.com Digital Agency and other clients—and met new people, too, before catching a redeye out of LAX to return to New Jersey early the next morning. Watching fellow passengers trying to fit their luggage with wheels into the too-small center overhead bins was the most stressful part of the entire trip.
Since their return, Dan, Alyssa and the KickCharge team have been hard at work ensuring their clients have a dynamite 2018. They look forward to their next road trip. Where should their next destination be?