Original blog published on July 31, 2015 | Blog updated on March 15, 2021
See Why Your Brand's Color Palette Matters
When you are building your brand, the last thing you want to do is blend in with the ho-hum advertising clutter that is bombarding your audience. You want to create a brand that is unique and fresh—that rises above the noise and grabs everyone's attention. One of the most critical decisions you will make is your brand's color palette. You need to choose colors that will stand out from the crowd while also reinforcing your brand messaging. Originality and consistency with colors are two of the keys to your brand's success.
Embrace the Unexpected.
Your brand will definitely turn heads when your color choices are unexpected.
A unique color scheme will help make your HVAC brand memorable. When you think of many popular brands, you immediately think of their iconic colors—such as the unforgettable pink and orange blend of a certain coffee and doughnut brand. Whenever possible and fitting, use colors that are not traditionally paired together. While there's nothing wrong with traditional color pairings, a unique color palette is more likely to get consumers to connect your colors with your specific business. Service businesses, specifically, have benefited greatly from this concept. Bold greens, bright purples and vibrant oranges, for example, will stand out from your competitions' generic black and white or red and blue service trucks.
Be Consistent.
Your HVAC brand's color palette will only be successful when you use the colors across your entire portfolio of brand collateral. This includes social media profile designs, truck wraps, employees' uniforms, business cards, website design, stationery and more.
Keeping this in mind, make a rule of your HVAC brand: The introduction of outside colors is strictly prohibited. To ensure consistency, rely on digital color systems to designate values that will allow you or your vendors to consistently use your specific color choices. When printing, the use of a CMYK (Cyan, Magenta, Yellow and Key) value will generate your colors accurately. For desktop and web applications (Microsoft Office, video, websites, etc.), a HEX or RGB value will be commonly used to display your color.
Check Out These Picture Perfect Examples
Let's explore some examples to help you begin selecting colors for your brand:
Kayal Beauty – A visually interesting design was just what the doctor ordered for this revitalizing and restorative medical facility. Its logo showcases it as modern and technologically savvy, while its color palette establishes this medical care provider as friendly and warm. The combination of blue, grey and black is classy, inviting and identifiable.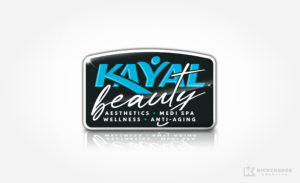 Johnny Cools Heating & Air – When developing a retro style logo for Johnny Cools Heating & Air, we knew its colors would play an important role. This red and blue color scheme is more typical in 1940s and '50s style pieces. With its new color palette, this brand was able to develop a unique look that fostered its brand voice.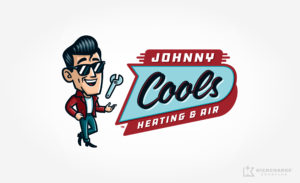 Castle Point Landscape Design – Green is an obvious color choice for this landscape design brand. Blue and grey, however, are not. Combine them, and it creates a unique color scheme that will easily pop when used on truck wraps, retail signage and employee uniforms.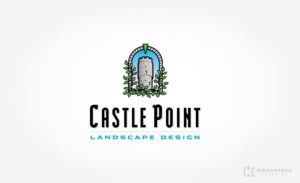 Like any good radio spot or TV commercial, a good brand is "sticky," which means it will stay in people's minds. As a small business, you have limited opportunities to grab your target audience's attention. Smart color choices will create the right first impression. When paired with a powerful logo, responsive web design and iconic brand collateral, your color palette will quickly become the backbone of your HVAC branding efforts. So, choose wisely!