When you consider all of the advertising clutter constantly bombarding viewers, it is easy to conclude that a small business needs to build a brand that stands out. By creating a brand that is unique and fresh, a small business can emerge above the noise and become a personable, identifiable company to consumers. One way to achieve this at first glance is to choose a unique color palette for your small business brand collateral. When selecting colors for your HVAC brand, the same holds true; it is important to consider a color scheme that will reinforce brand messaging. From there, originality and consistency become keys to success.
Originality
Put simply, an HVAC brand instantly becomes more recognizable when your color choices are unexpected.
Color scheme is a major part of any successful HVAC brand's memorability. Think of popular brands outside of the industry like Coca-Cola. Immediately, the iconic brown and red combination comes to mind. Whenever possible and appropriate, utilize colors that are not traditionally used together. While there is nothing wrong with traditional color pairings, the more unique a color palette, the more likely that consumers will relate those colors back to your business. Put simply, an HVAC brand instantly becomes more recognizable when your color choices are unexpected. Service businesses, specifically, have benefited greatly from this concept.  Bold greens, bright purples and vibrant oranges, for example, will stand out amongst the competition's generic black, white or red service trucks.
Consistency
Choosing a color palette for your HVAC branding is only successful when the colors are used across the entire portfolio of brand collateral. This includes social media profile designs, truck wraps, employees' uniforms, business cards, website design, stationery and more. Keeping this in mind, make a rule of your HVAC brand: the introduction of outside color is strictly prohibited. To ensure consistency, digital color systems can designate values that allow you or your vendors to match color choices. When printing, the use of a CMYK value will generate your colors accurately. For desktop and web applications (Microsoft Office, video, websites, etc.), a HEX or RGB value will be commonly used to display your color.
Let's explore some examples to help you begin selecting colors for your brand: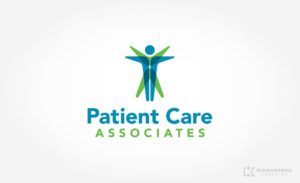 Patient Care Associates – This surgical office benefited from a visually interesting design. However, appearing modern and technological, its logo required friendly, warm
coloring. The shades of blue and green chosen here are inviting, wholesome and most importantly, identifiable.
Allegiance Heating and Cooling – When developing a retro style logo for Allegiance Heating and Cooling, we determined that color could set the foundation. This orange and blue color scheme is more typical in 1940s and '50s style pieces. Rarely are deep blues or oranges combined in modern times. With its new color palette, this brand was able to develop a unique look that fostered its brand voice.
GroRite Greenhouse & Garden Center – Green is an obvious color choice for this garden center brand. Purple and orange, however, are not. Combine them, and it creates a unique color scheme that will easily pop when used on track wraps, retail signage and employee uniforms.
---
Like any good radio spot or television commercial, a good brand will stick in people's minds. Small businesses have a limited opportunity to grab their target audience's attention, and you can give a defining first impression with the right choice of color. Paired with a symbolic logo, a responsive web design and iconic brand collateral, this color palette will quickly become the backbone of your HVAC branding initiative. So, choose wisely!