Original blog published on July 31, 2015 | Blog updated on May 17, 2023
See Why Your Brand's Color Palette Matters
It's a rule of thumb around our office that no brand should 'blend in.' It's the KickCharge philosophy that a unique, fresh brand is the way to rise above the noise and grab everyone's attention the right way. No more ho-hum clutter that bombards your audience everywhere they go. A strong name and logo are big aspects of that vision, and so too are colors. The right ones will stand out from the crowd while reinforcing your brand messaging. Keeping true with originality and consistency, the right colors also will be pillars of your brand's success.
Don't Fear the Unexpected
Everyone expects an HVAC company to use red and blue to represent hot and cold. It's the brands that aren't afraid to explore a new direction that turn heads and occupy a piece of your audience's mind long after they've seen your colors.
When you think of many popular brands, you immediately think of their iconic colors—such as the unforgettable pink and orange blend of a certain coffee and doughnut brand. Whenever possible and fitting, use colors that are not traditionally paired together. While there's nothing wrong with traditional color pairings when teamed up with other strong brand elements, a unique color palette is more likely to get consumers to connect your colors with your specific business. Service businesses, specifically, have benefited greatly from this concept. Bold greens, bright purples and vibrant oranges, for example, will stand out from your competitors' generic white service trucks with a splash of red and blue.
Make Your Colors Yours, Anywhere and Everywhere
Your HVAC brand's color palette will only be successful when you use the colors across your entire portfolio of brand collateral. This includes social media profile designs, truck wraps, employees' uniforms, business cards, website design, stationery and more.
Keeping this in mind, make a rule for your HVAC brand: The introduction of outside colors is strictly prohibited. This ensures consistency at all times, keeping your brand's colors uniquely yours and preventing confusion for your audience. To accomplish this, rely on digital color systems to designate values that will allow you or your vendors to correctly use your specific color choices. When printing, the use of a CMYK (Cyan, Magenta, Yellow and Key) value will generate your colors accurately. For desktop and web applications (Microsoft Office, video, websites, etc.), a HEX or RGB value will be commonly used to display your color.
Let's See Some Head-Turning Examples
Let's explore some brands we've created using colors that practice what we've been preaching:
Hummingbird Heating & Cooling: Hummingbirds can display a variety of colors in the sunlight. Naturally, we took that to heart with this brand, which features a large color palette that inspires feelings of beauty and elegance. Hummingbird began turning heads the second its service vehicles hit the streets.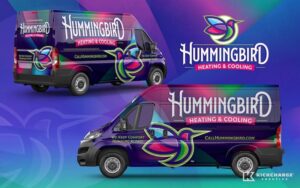 Pro Garage Doors: Ever see a garage door company using teal and magenta? You have now! These colors are truly disruptive in this space, commanding positive attention anywhere its vans travel. Yellow as an accent color stands out and complements both with ease.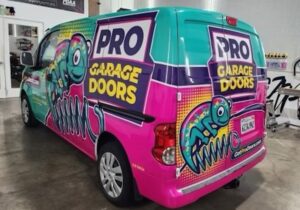 Can-Do Crew: These colors "can-do," and so can you! This color palette reimagines the traditional red and blue associated with HVAC to create something far more approachable and memorable. This shade of blue is relaxing and mixes with an orange that's warm and inviting without feeling too intense.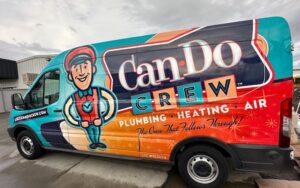 What makes a brand truly hit-or-miss is its ability to be "sticky." Just like a good TV commercial that you're talking about at work the next day or a radio jingle you keep singing to yourself, your brand needs to stick in people's minds. As a small business, you have limited opportunities to grab your target audience's attention, which is why smart color choices will create the right first impression. When paired with a unique name, powerful logo and iconic brand collateral, your color palette will quickly become the backbone of your HVAC branding efforts. Choose wisely!
As always, if you need a little push in the right direction when it comes to giving your brand a fresh color palette, we're here to help. Reach out to us online, or call our team at 908.835.9000 today.