Original blog published on Feb. 13, 2018 | Blog updated on Feb. 2, 2022
Fall in Love With a New, Improved Image
Even if you promised to love each other through thick and thin, some promises are made to be broken. Take your branding, for example. If you made a commitment to a poor or so-so brand when you were young and naïve, you shouldn't be saddled with that mistake for eternity.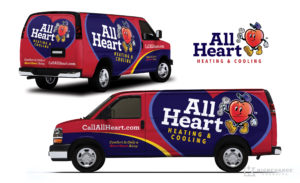 But when you've invested a great deal of time and built your business around a brand, we know it can be difficult to part ways. Look at it this way, though: When that brand is not right for you, you're better off moving on because you deserve to find "the one" that will energize you and fulfill all of your business goals and dreams.
At KickCharge Creative, we've earned a reputation as the go-to matchmaker that thousands of small businesses have trusted. We will listen to your concerns, understand your pain points and use our 25-plus years of branding experience to pair you up with the perfect logo and brand. The results? Lasting relationships and unmatched success.
If you're ready to move on to a brand relationship that's more fulfilling than you could ever imagine, follow these steps to break up with the old and embrace the new.
Accept that it's over.
These are some of the warning signs that your branding relationship is irretrievably broken. For starters, it doesn't reflect the high quality of products and services you deliver. Plus, you're no longer proud to be seen with your brand. Your service vehicles blend in with the crowd and you're a little embarrassed to hand out your business cards. Now that's what we call heartbreaking.
Don't stay in a bad relationship out of pity or complacency. Take action! As KickCharge Creative leader Dan Antonelli reminds our clients: "Success in spite of a poor brand is not a valid reason to perpetuate it." Granted, it's gotten you this far, but it's holding you back from your full potential.
Know what you want in your new brand.
The process for finding your perfect partner in the branding world is much like finding your perfect partner in the dating world. You need to think—really think—about what you want. So, take time to consider: "Who" is my business? Who is my target market? What should my new brand convey? What will it take to make my company's name and tagline the strongest they can be?
Take your time as you consider these questions. After all, you're seeking a long-term relationship, so it's important to get it right.
Lean on your support system.
Your mom, brother and best friend love you and want what's best for you, but they're better counselors for your personal life than for decisions about your logo. When you're crafting your brand identity, you need an experienced professional to lean on. A brand expert gives you "tough love" to make smart decisions for the right reasons. Count on a full-service marketing agency like KickCharge Creative to develop a well-executed brand and then bring it to life across the marketing spectrum. KickCharge does not just design logos; we excel at implementing your new brand into a stunning vehicle wrap, crisp stationery, professional uniforms, an engaging website, polished brochures and more.
Honest c

ommunication is key.

When you're ready to go public with your new brand relationship, it's important to ease into it. It also important to explain the change to your customers and thank them for making your growth and success possible. They're your brand ambassadors. Treat this as an opportunity to renew and strengthen your relationship with them. The new look will reinvigorate their feelings for your company, too. See? Sparks are flying already.
Treat your new brand with respect.
Apply your brand consistently. Arm yourself with polished sales tools. Coddle that new brand and it will treat you right. You can find more new brand relationship pointers here.
Call the Branding Matchmaker Today
After you've broken the news to your old brand, call us. Together we will make your next logo the one that energizes your customers, grows your business and leaves a lasting legacy. Contact us online or call 908.835.9000.