See the Logo, Truck Wrap Crafted for a Georgia HVAC Company
An Atlanta, GA, heating and air conditioning contractor was the lucky winner of KickCharge Creative's "Transform Your Naughty Logo to Nice" contest in December, and we are thrilled to finally unveil the new logo and vehicle wrap our branding elves developed for the company. We were eager to use our expertise in marketing for small businesses to KickCharge 2019 for one contest hopeful that was using a logo that belonged on the Naughty List.
Learn More About Our Winner

Empire Heating and Air Conditioning, established in 1985 by Martin and Gila Hoover, submitted its black and red, type-based logo. Empire uses the simple logo on the side of white vans to mark its fleet.
The award-winning company touts its high standards and dependable 24/7 service. It offers a quality assurance program and customer assurance pricing. Empire boasts a 4.9 average rating on Google with about 300 reviews.
The KickCharge Creative team selected this company for a logo makeover because it has enormous potential to grow by adopting a brand that depicts and communicates its values and experience.
The Rebranding Rationale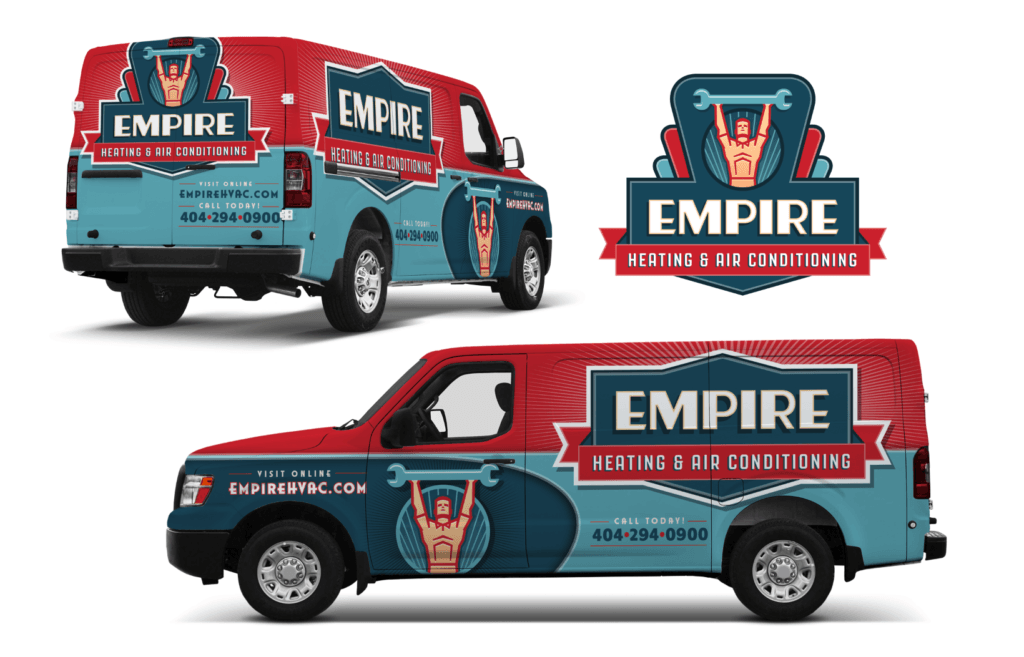 KickCharge Creative President and CEO Dan Antonelli, along with illustrator Jeff Devey, researched the HVAC company's competitors' brands and decided that an Art Deco design—a nod to the Empire State Building, which shares the company's name and is famous for its design in that style—would create a unique and disruptive brand in the Atlanta region. The buildings in New York City's Rockefeller Center complex also are Art Deco.
The logo the KickCharge team crafted is panel-based to strongly anchor the designs of the sides and rear of the company vans. It intentionally uses colors that are atypical for heating and air conditioning brands. Together, the design elements and colors speak to old-world craftsmanship and pride in quality work, Antonelli said.
"We think the new van will draw a lot more attention than the old ones that don't stand out," Antonelli said. "This will help more potential customers in their market to remember the company's name."
Strong Brands Boost Bottom Lines
KickCharge Creative is passionate about creating powerful brands that are memorable and distinguish businesses from their competition. The brand always is the foundation of our vehicle wraps and stationery, contractor web design, brochures and more.
No KickCharge client who has replaced a generic logo with a custom brand has regretted the decision. Rebranding is a significant undertaking, but it yields tremendous results when done strategically.
This holiday-season contest is complete, but the KickCharge "branding elves" give the gift of beautiful brands year-round. If, like the rusty old AC systems Empire Heating and Air Conditioning replaces, your logo is ready for retirement, call our team today or contact us online. We're not at the North Pole, but we will work magic in our New Jersey workshop to help your business growth dreams become reality.