The Before-and-After of Three Large HVAC Companies
Rebranding a business is no easy task. In fact, it takes a series of intricate steps to transform a company from its old persona to its new identity. Although the process is time-consuming and requires extreme dedication, once a rebranding expedition is completed, companies tend to wish that they had taken the plunge years earlier.
Working with a team of experts makes the journey much more manageable—and, most importantly, increases the chances of a successful result. Graphic D-Signs' team of small business marketing professionals are dedicated to helping companies transform into a more desirable and effective version of themselves. From designing customized logos and head-turning truck wraps; to crafting a brand voice and defining the brand promise; to creating informative, consistent collateral, we've got our clients' backs every step of the way.
Clear the Air Cooling & Heating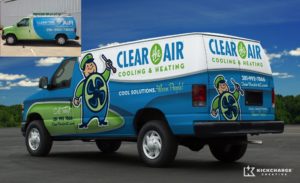 In the Houston heat, residents are in constant need of reliable cooling services. And so, one business decided to step up and fulfill this role as the HVAC company that Greater Houston residents could rely on.
Clear the Air Cooling & Heating's roots and HVAC expertise originated in Houston, TX; the company knew both the area and its residents well. However, the company lacked a crucial key for success: brand awareness. That's when Graphic D-Signs stepped in to help, building a memorable, standout brand that spoke to its high value services and customer care.
After creating a retro-themed logo that highlighted Clear the Air Cooling & Heating's history and trusted services, Graphic D-Signs put the brand on wheels to make a one-of-a-kind vehicle wrap. This marketing machine went the distance; it caught the locals' attention, and brought Clear the Air Cooling & Heating down a new path of success. It wasn't long before the leads came in, and the new brand became a familiar face across Houston and the Bay Area.
Timo's Air Conditioning & Heating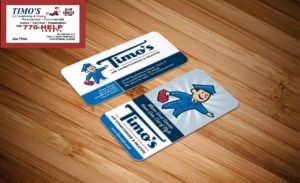 This California-based HVAC company already had the right reputation,but it needed a brand to match its image. With the help of Graphic D-Signs, Timo's Air Conditioning & Heating embarked on a brand transformation—and never looked back. From a logo redesign and website remodeling, to a truck wrap and customized stationery, the new brand vision was brought to life. Ultimately, the new identity proved to customers that Timo's Air Conditioning & Heating had what the competition didn't: a brand that stood behind their quality service and care.
As word of the company's quality services spread, Timo's Air Conditioning & Heating needed to expand the new brand even further. And so, Graphic D-Signs condensed the customized logo onto business cards. With this new collateral, Timo's Air Conditioning & Heating could pass along the contact information that customers needed, while simultaneously marketing the new brand. Now, customers would know who to call when they needed HVAC service—because the name was right there in front of them.
Hansen Heating & Air
A couple of years ago, the owner of Hansen Heating & Air found his business in the midst of an identity crisis. He struggled to define what his company stood for or how to effectively communicate his service offerings to clients. After teaming up with Graphic D-Signs, Hansen Heating & Air transitioned from survival mode to booming business.
You see, our marketing team knew that the company needed a refreshed image. Taking the time to understand the company's values and unique qualities, Graphic D-Signs created a retro logo that now defines Hansen's identity. When Alabama residents are looking for a heating or cooling solution, they know to turn to the team of certified technicians that are fast, friendly and affordable: Hansen Heating & Air.
The Difference of a Rebrand
Rebranding is about more than just creating a new look: it gives a business the key differentiators that it needs to stand out in a saturated market. Rebuilding a business with Graphic D-Signs' professionals provides a company with the necessary marketing tools that will make its identity seen, heard and known, setting it apart from the competition and redefining its success.