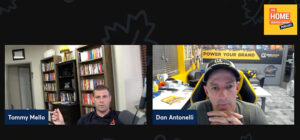 We're passionate about giving voice to a sector that had long remained silent: small businesses. With more than 400 published articles on small business branding and marketing, it's safe to say we're a bit obsessed.
President Dan Antonelli has written four books on small business branding and logo design including his latest, "Branded Not Blanded: KickCharge Your Home Service Brand." He is also an active influencer in various home service media such as PM Magazine, HVACR Business, ACHR News, HVAC Master of the Hustle Podcast, and Tommy Mello's Home Service Expert Podcast.
A frequent contributor to the home service community, Dan has been cited as a branding expert by prestigious publications including Fox Business, Inc. Magazine, Intuit Small Business Blog, Entrepreneur, HVACR Business, Signs of the Times, and The Star Ledger, to name a few. No matter the reason clients come to us, Dan is always involved in the process. He personally serves as a small business marketing consultant for businesses that need branding expertise and direction
The team at KickCharge® Creative shares Dan's enthusiasm and knowledge of how to deliver powerful marketing solutions. People come to us not because we write about small business brands, but because we believe in them and the power they hold.
Check out some of our published content and media appearances below.
Media/Podcast Appearances
2022:
Home Service Expert with Tommy Mello: How To Get Clients To Sell Themselves On Your Brand Before They Even Call You
Join Tommy Mello and Dan Antonelli, President and Chief Creative Officer of KickCharge Creative talk all about how to build a brand that stands out, attracts the right clients and employees, and wins the hearts and minds of your ideal customer. Watch now.

The Profit Rocket Podcast by Victor Rancour

:  S01 E07 – Episode 7 "Branded Not Blanded" w/ Dan Antonelli

Victor and Dan dive into home service branding and how it can make or break your business. Dan also unveils his new book, "Branded Not Blanded."  Listen now.
Blue Collar CEO Podcast with Ryan Redding

:  S03 E13 – Episode 7 "Branded for the Trades" w/ Dan Antonelli

In this episode, Ryan and Dan discuss people's big misconceptions about branding their home services businesses, its impact, and the mistakes to avoid when branding your business.  Listen now.

Dan Antonelli, founder and president of KickCharge Creative, recently joined ServiceTitan's Jackie Aubel as part of Season 5 of "Toolbox for the Trades" podcast. Watch this episode to learn more about:
Distinguishing a bad brand from a good brand.
Making a good brand a great brand.
The difference between branding and notoriety.
How branding affects your bottom line.
Good reasons for changing your brand. Listen now.
HVAC Success Secrets Revealed: E: 83- Dan Antonelli w/ KickCharge Creative: How To Kickcharge Your Branding For Your Business
In this episode, topics include: When is the right time to rebrand? Why would an owner rename their company and what does that process look like? What does the quote "a camel is a horse designed by a committee" from your book mean and how does it relate to branding? Listen now.
HVAC Masters of the Hustle:  Episode #180:
HVAC Masters Of The Hustle would like to welcome the GOAT Dan Antonelli back into the Hot Seat on episode 180. On this episode we take a deep dive in Dans new book Branded Not Blanded. this episode is loaded with tips from Dan on how to separate yourself and stand out! Listen now.
Successful Life Podcast: Disrupting the Branding Industry:
In this episode of the Successful Life Podcast, I talk with Dan Antonelli about key strategies for developing the right logo and trade dress to drive franchise growth. Dan is the author of Building a Big Small Business Brand, and is the creative director of the branding firm KickCharge Creative. We discuss how to create a strong and recognizable brand for your franchise, and how to choose the right logo and design to support that brand. Dan shares his insights on what makes a successful franchise brand, and how to avoid common pitfalls when creating your own franchise brand. If you're looking to grow your franchise through branding and design, this episode is a must-listen! Listen now.
Contractor Growth Podcast: #341 Your Current Brand Is Costing You THOUSANDS
We are joined by Dan Antonelli, President of KickCharge Creative! Dan has worked with contractors for YEARS, helping them update their brand. Whether it's a new name, logo, colors, or truck wrap. Dan has a book coming out titled "Branded Not Blanded" that is designed to educate contractors on how to update their brand in 2022. Enjoy this conversation! Listen now.
The Contractor Fight: TCF385: Investing in Your Brand with Dan Antonelli:
Investing in your brand is a surefire way to scale your business and increase your revenue if you take the time to do it right. Tom's guest today is Dan Antonelli, the founder of KickCharge Creative. Dan explains why branding isn't just about having a logo or clever company name, and how to build a stronger brand that makes more customers want to hire you! Listen now.
HVAC Uncensored Podcast: Kick Charge Your Brand With Dan Antonelli:
In this episode of the HVAC Uncensored Podcast Gil and Kelley talk to the one and only Dan Antonelli. Dan is the owner and director at Kick Charge Creative. They have branded some of the most well-known trade companies in the country. We talk about the importance of a brand and when it's time to rebrand. Such a great conversation. Don't wanna miss this! Listen now.
In the Den Podcast: How to Get More Sales with a Captivating Brand: Episode #176:
Your brand is just as important as your bottom line, and a GOOD brand can actually be the difference between your business making $1 million or $10 million in revenue. Today, we're talking shop with the master of brand creation and design, Dan Antonelli, President of KickCharge Creative! Dan shares all the answers you need to create a powerful, long-lasting impact across your service area with a brand that will stand the test of time. Don't miss this episode! Watch now.
Fight Club 4 Business: Episode 115:
In this episode, Dan talks about how creative branding helps businesses stand out from the competition, attract the right clients and employees, and win the hearts and minds of their ideal customers. Watch now.
Beyond the Tools: Episode 40: Branding Your Business to Stand Out with Dan Antonelli:
In this episode, Dan dives into the nitty-gritty of brand building and the role it plays in many aspects of the business, busting some common myths when it comes to growth and marketing along the way. He shares how even KickCharge went through a rebranding of their own, which according to Dan, is a point that a lot of companies never get to. Listen now. 
Lighting for Profits: Ep 71 – Dan Antonelli – Branding Not Blanding.
If you've ever had a question about what your truck wrap should look like, watch this week's episode with Dan Antonelli from Kick Charge Creative. Dan is a master of marketing and knows how to build successful brands in any marketplace. Listen now.
Waste No Day: Episode 117: Dan Antonelli of KickCharge Creative on being Branded Not Blanded.
In today's show, we are putting Dan Antonelli in your passenger seat to discuss branding. Whether you are a business owner or a front-line employee branding has an important part in your day-to-day life. The power of branding cannot be understated from when you see the golden arches to when you watch the checkered flag logo drive by you. Brand images relates to brand service relates to brand value. What about your brand? Does your brand communicate the level of service that you bring? What about you personally? Listen now.
Previous Years