Learn About the Effectiveness of Fleet Branding
Before you make the decision to wrap every vehicle in your fleet, you may ponder whether it's worth the expense. Each vinyl wrap costs a couple thousand dollars, and, most of the time, it doesn't last as long as the vehicle, so it may need to be replaced after a few years. We're here to tell you that, when it comes to marketing for contractors, fleet branding pays you back with a generous return on investment (ROI). Here's how.
The cost per impression is much lower than other media.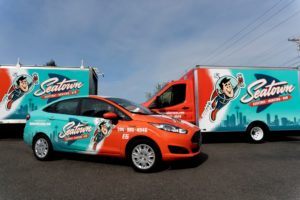 When you divide the cost of a wrap by the number of people who see it while driving by, you'll find it's a highly cost-effective method of outdoor advertising. Unlike a billboard that's stationery—and temporary—a moving vehicle reaches a larger audience throughout your entire service area, day after day.
Fleet branding also is hard to ignore. People can fast-forward through TV commercials, change the station when an ad plays on the radio or flip the page without reading newspaper or magazine ads—but they can't help but see other vehicles sharing the road or parked along their route. A wrap that's designed well is disruptive and demands attention; it will turn heads!
Seatown Electric Plumbing Heating and Air in Seattle, WA, keeps track of how much revenue it generates from customers who say seeing their vans is the way they found the company. That revenue doubled from 2018 to 2019, the year Seatown wrapped its fleet with its new KickCharged brand.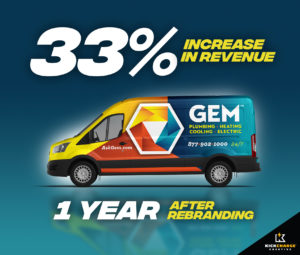 Gem Plumbing & Heating in Massachusetts had finished wrapping only 25% of its fleet with the new brand, and phone calls to the phone number on the wrap had already quadrupled!
Well branded commercial vehicle wraps improve the ROI of your other marketing, too.
Quantifying the effectiveness of a vehicle wrap may be a bit ambiguous, but its benefits are far-reaching. Imagine this: A homeowner sees a plumbing company's van during her commute. When she discovers a leak under the kitchen sink a week later, she grabs her phone and searches for a plumber who can fix it. Among the search results, she recognizes the name of the company whose truck wrap caught her eye. When she clicks the link, it's not just another of the many generic plumbing websites she expects to find; instead, the site has integrated the same welcoming, reassuring, professional brand that adorned the van she passed on her way home from work. She uses the live chat feature to request an appointment, and a new customer relationship is born.
The plumbing company's fleet branding—out on the streets—just gave a boost to its search engine marketing campaigns online. Better brand awareness improves click-through and conversion rates so that digital marketing spend generates more revenue.
It can have the same effect for any other media: When you see a vehicle wrap, that company's TV or radio commercial or print advertisement is more likely to get your attention and inspire you to choose that company.
KickCharge Creative President and award-winning brand and wrap designer Dan Antonelli talked about "winning the battle on the streets" with Tommy Mello on this episode of The Home Service Expert podcast. "When it comes time for them to make a decision about who they're choosing to do business with, your name comes top of mind," Antonelli says on the podcast. He always recommends featuring your wrapped vehicle—"your most visible application of your brand"—on your website's home page to help people connect the dots.
Don't Miss a Chance to Make an Impression
Once you realize the impressions your fleet branding yields and the opportunities those impressions create, you'll want to ensure you're not wasting them with a poorly designed wrap using a forgettable brand. Check out our before-and-after gallery to begin visualizing your fleet's potential. Your rebrand could yield tremendous revenue growth, like it did for all of these happy clients.
Your vehicles are moving billboards with an optimal canvas for communicating your brand promise and differentiating your company from the competition. To talk about transforming your fleet today, contact the KickCharge Creative team online, or call us at 908.835.9000.